Dedicated Server Hosting. Dedicated Expert Staff.
CeraNet's dedicated hosting services are a powerful and secure option for companies and individuals who need more than what shared hosting options can offer.
What is Dedicated Hosting?
With Dedicated Hosting, one server (or group of servers) is dedicated solely to your organization. This is different from shared hosting, where multiple organizations share a single server. With server and resources dedicated to you, this method of hosting becomes a great option for organizations who need abundant processing power, large storage capabilities or must meet strict security requirements.
Dedicated Hosting Features
100% uptime guarantee with Industry-leading Service Level Agreement
24/7/365 technical support
Live support available by phone, email or web
Local and remote monitoring 24/7/365
Why Use a Dedicated Server?
Reliability & Dependability: Nightly backups, high-speed fiber connections, built-in redundancy & 100% uptime guarantee to ensure constant server availability.
Compliance & Enhanced Security: Intelligent threat defense, advanced malware protection, Cisco's
Adaptive Security Appliance firewall & compliant-specific security strategies to keep your data safe 24/7.
Backup Protection: Custom backup plans, including automated disaster recovery, to protect your organization's digital information.
Astonishingly Fast Speeds: Dedicated servers provide better uptime & faster loading speed, as they aren't being bogged down by demands for resources by other clients.
Robust Web Presence: Enhanced ecommerce capabilities, easily accessible 24/7/365.
Full User Control: Fully customized hosting solutions, including your choice of operating system, hardware & configurations.
A Server You Can Call Your Own: No competition for server space means all available resources are dedicated to your efforts.
Money Saving All-Inclusive Plans: CeraNet offers no start up costs for most plans and our packages include all necessary hardware, saving your organization money in a variety of ways.
Phenomenal Support: Just as your server is dedicated to your team & its efforts, our team is committed to you – 24/7!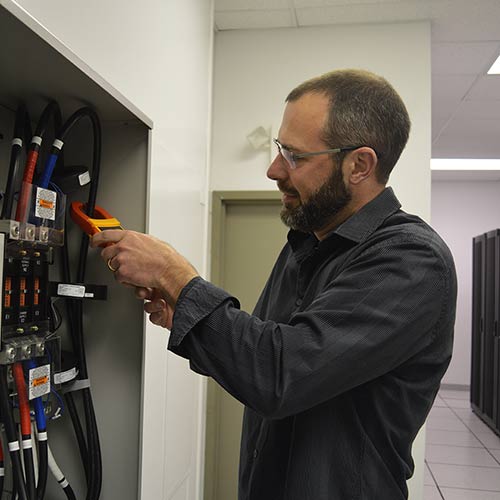 Phenomenal Support
Our technical support team is staffed by experts with decades of consulting and services experience. Call us or email us anytime 24/7/365 and speak with a live support professional.
Additional Services
Managed Hosting
From hardware to software to data, CeraNet can manage as much or as little as your organization needs. Full network management and support comes standard with all services. Managed Services include options for full management – more than just another set of eyes and hands. We offer help with complete systems design and consulting, project planning and implementation services, as well as ongoing support. Our team can help with your hardware procurement, networking, software installation and security best practices. After you get your system up and running, we can assist with data backup services, disaster recovery plans and ongoing maintenance to support your organization end to end. We offer management service on contract and "as needed." Great "level 2" support gives you an expert to help resolve complex issues, extra resources to help when you get overloaded, or backup when you are not available. Not quite sure which hosting option is right for you? Take a look at ourDedicated Hosting vs. Cloud comparisons.
Hybrid PLUS Solutions
One size doesn't fit all — CeraNet's Hybrid PLUS Solutions allow you to combine public & private cloud services with colocation, dedicated servers, shared hosting or all of the above. Our Hybrid PLUS solutions are designed to cut capital expenditures and ongoing operating costs while still meeting strict, high performance technical requirements for complex IT systems. Our unique combination of services, network power and technical expertise enable your organization to eliminate waste, initial capital outlay and ongoing maintenance costs.
Start Your Hosting Today with Pricing You Can Plan For
CeraNet uses straightforward pricing so you can easily predict your costs. Our simplest plans start at $99/ month. We also charge no start-up costs for most plans. Learn more about our data center, located in Columbus, Ohio.
For more information on any of CeraNet's data services & solutions, contact us today.