The Value-Adding Benefits of Using Colocation Services
If you are an organization looking for added security, enhanced versatility, greater speeds & increased reliability from a data hosting provider without breaking the bank, colocation may be an attractive solution for you. Take a look at the various advantages colocation can bring to your endeavors.
Flexibility & Agility
From individual tower or rack servers to full racks to multi-rack secure enclosures up to 15,000 square feet, CeraNet's colocation hosting works for almost any size organization. As your business grows you can add and upgrade your equipment without the expense of investing in on-site data centers and infrastructure.
Save on Overhead Costs
Even the simplest data center or dedicated computer room requires large investments in power, connectivity, cooling, monitoring. Add that to ongoing maintenance, support and staff costs and you're looking at a hefty price tag for keeping servers on-site. By moving your servers to CeraNet's Columbus Data Center, you will significantly reduce IT costs. You'll also convert capital expenses into operating expenses for further positive impact on your budget.
Reliable & Dependable
100% uptime guarantee and industry-leading service level agreements mean that your colocated servers are always available. CeraNet's data center is designed with high-speed fiber connections and redundancy built-in at every turn, including nightly full backups of every server. Thousands of censors and our experienced staff monitor the data center climate to ensure that your hardware is kept in optimal conditions. You can rest assured that we will keep your business up and running, 24-hours a day, 7-days a week, 365-days a year.
Added Security & Compliance
With 24/7/365 monitoring and multiple layers of physical and network security, your critical information is safe. Cisco enterprise core networking equipment monitor all incoming traffic to mitigate unauthorized access and attacks before they impact you. For advanced protection, opt for intelligent threat defense and advanced malware protection using Cisco's Adaptive Security Appliance Firewall and Network Security Platform with Sourcefire. Cisco ASA offers Virtual Private Network capabilities as well as integrated intrusion prevention, based on next generation encryption standards. Colocation options are available to meet strict compliance regulations including HIPAA, PCI, FISMA, IRS 1075 or other security requirements.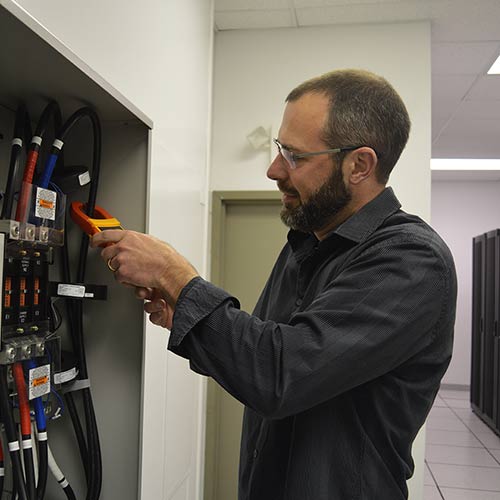 CeraNet's Phenomenal Support Team
Our technical support team is staffed by experts with decades of consulting and services experience. Call us or email us anytime 24/7/365 and speak with a live support professional.
Lighting Fast Server Speeds
With colocation, there is no sharing of bandwidth, memory, or hard drive capacity. CeraNet's data center solutions offer redundant high-speed, fiber optic Internet connections to ensure your servers are always accessible and perform at the highest levels.
Surefire Backup Protection
File and database backup protection options available. Schedule and retain custom backups based on your organization's needs, including automated disaster recovery processes available.
And Get Back to Business
Without having to worry about the underlying infrastructure, you can free your employees to focus on more strategic initiatives. Your IT department can focus on things that actually drive your businesses growth instead of spending it on endless, demanding maintenance and management issues.
For more information on any of CeraNet's data services & solutions, contact us today.