Scale Faster, Run Better, Reduce Costs
What is Cloud Computing?
Confused by the cloud? Don't worry – we'll break it down for you. Cloud computing is the process of storing and accessing data and applications over the Internet, instead of your personal computer or a server in your office. (When we say "cloud," we're just talking about the Internet.) Your applications and data sit on severs that are managed by a cloud service provider. When you run applications or store data in the cloud, your information can be accessed anywhere, anytime as long as you have access to the Internet.
The Two Types of Cloud Computing
In the public cloud, you can host applications, store files and share computing resources with your entire team, no matter where they are located. Public cloud resources scale with your organization and offer reliability you just can't get from an in-house server. Because you only pay for what you use, you save money. Public cloud hosting is also a great solution for organizations who want to sell their software as a service.
A private cloud server is just like a public cloud with one exception – the private cloud is dedicated to you. You can still host applications and store and share files with your team, but you will be the only one on your server. In the private cloud, you can optimize computing resources for your needs and design custom security options to meet HIPAA, PCI, FISMA, IRS 1075 or other security requirements.
Hybrid Cloud Computing Solutions
Combine a public cloud with a private cloud to create one cloud computing environment for your entire organization. Take your solution even further with Hybrid PLUS to combine cloud solutions with colocated servers, dedicated hosting, Virtual Private Servers and more. Learn more here.

Why Use Cloud Computing?
Cloud services are flexible, scalable and secure. CeraNet provides the infrastructure, network, server hardware, software licenses, setup, custom configuration and on-going maintenance. Cloud computing solutions enable you to get started quickly, change resources as your organization changes and pay only for what you use.
---

Cloud vs. Virtual Private Servers
Cloud servers tout all the benefits of Virtual Private Servers (VPS) and a whole lot more. Because you're not limited to a single server, cloud servers are scalable the instant you need more resources. While Virtual Private Servers use a slice of an individual server, cloud servers are engineered with redundancy, using clusters of nodes of servers, providing full server backups for disaster recovery. Smart design also ensures cloud servers offer high availability at all times.
The Advantages of Using Cloud Computing
Scalable & Flexible
Add computing resources when you need them so you never miss a moment of growth. Growing businesses can centralize applications and provide access to the entire organization, even when launching new locations. Scale down to save money when growth slows. As your needs change, your computing resources change with you — and you don't pay for resources you are not using. And you're in charge, using CeraNet's open and user-friendly Control Panel. Flexibility gives businesses an edge when competing in constantly changing markets.
Reliable & Dependable
100% uptime guarantee and industry-leading service level agreements mean that your cloud services are always available. CeraNet's data center is designed with high-speed fiber connections and redundancy built-in at every turn, including nightly full server backups of every server. You can rest assured that we will keep your business up and running at all times.
Secure & Compliant
With 24/7/365 monitoring and multiple layers of physical and network security, your critical information is safe. Cisco enterprise core networking equipment monitor all incoming traffic to mitigate unauthorized access and attacks before they impact you. For advanced protection, opt for intelligent threat defense and advanced malware protection using Cisco's Adaptive Security Appliance (ASA) Firewall and Network Security Platform. A Cisco ASA offers Virtual Private Network capabilities as well as integrated intrusion prevention, based on next generation encryption standards. Private cloud options are available to meet strict compliance regulations including HIPAA, PCI, FISMA, IRS 1075 or other security requirements. Take a deeper look at our facilities today!
Backup Protection
Nightly full server backups ensure that your information is safe. Advanced protection options are available, including automated disaster recovery processes down to the level of individual files and SQL server transactions. Need more flexible backup protection? Create and save snapshots of cloud servers and data at any time or clone new cloud servers to create identical copies to go back in time before you installed software, updates or modified your servers.
Agile & Fast
Your business turns on a dime, shouldn't your infrastructure keep up? Rapidly develop, test, and deploy your applications on your public or private cloud, using one set of familiar tools. We help small to mid-sized companies create a more agile IT infrastructure by setting up an easy to use control panel tied into our state of the art infrastructure. You have the ability to allocate and structure server resources in just seconds or turn off services you no longer need.
Reduce Costs & Save Money
Cloud services are designed for organizations who need the most from their IT dollar. Cloud services remove the large capital expenses and overhead required to run onsite-servers. While virtual servers solved some of these issues, they still waste, on average, 75% of their processing capacity. Cloud solutions are different because they grow and shrink with your business. You only pay for what you need, when you need it. You'll know exactly how your IT resources are being utilized with no expensive surprises at the end of the month, giving you a predictable way to budget for your IT infrastructure.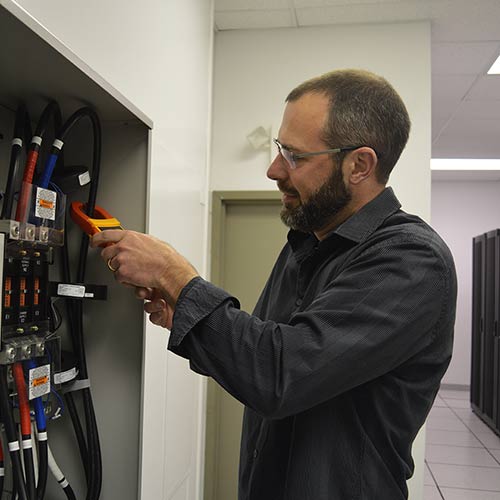 Phenomenal Support
Our technical support team is staffed by experts with decades of consulting and services experience. Call us or email us anytime 24/7/365 and speak with a live support professional.
Additional Server Options
Managed Hosting
From hardware to software to data, CeraNet can manage as much or as little as your organization needs. Full network management and support comes standard with all services. Managed Services include options for full management – more than just another set of eyes and hands. We offer help with complete systems design and consulting, project planning and implementation services, as well as ongoing support. Our team can help with your hardware procurement, networking, software installation and security best practices. After you get your system up and running, we can assist with data backup services, disaster recovery plans and ongoing maintenance to support your organization end to end. We offer management service on contract and "as needed." Great "level 2" support gives you an expert to help resolve complex issues, extra resources to help when you get overloaded, or backup when you are not available. Not quite sure which hosting option is right for you? Take a look at our Dedicated Hosting vs. Cloud comparisons.
Hybrid PLUS Solutions
One size doesn't fit all — CeraNet's Hybrid PLUS Solutions allow you to combine public & private cloud services with colocation, dedicated servers, shared hosting or all of the above. Our Hybrid PLUS solutions are designed to cut capital expenditures and ongoing operating costs while still meeting strict, high performance technical requirements for complex IT systems. Our unique combination of services, network power and technical expertise enable your organization to eliminate waste, initial capital outlay and ongoing maintenance costs.
Say Goodbye to Hardware & Headaches
Moving your data and applications to our secure cloud services means you no longer have to own, manage or maintain your own hardware. Servers are expensive, have a short shelf life and require dedicated staff to maintain. CeraNet provides the expertise, the network, the hardware, and the resources you need and you can avoid the hassle and cost of managing and maintaining the infrastructure yourself.
But You're Still in Control
You control your IT resources instead of your IT resources controlling you. CeraNet provides self-service IT infrastructure to business units and departments with our 100% up-time guarantee, removing the burden to procure, provision and manage infrastructure on a per-application, ad-hoc basis. CeraNet adds an easy to use control panel so you can change these resources at anytime.
So You Can Get Back to Business
Without having to worry about the underlying infrastructure, you can free your employees to focus on more strategic initiatives. Agility means you can now deliver applications more quickly to your users and customers while also responding to changes in demand. Your IT department can focus on things that actually drive your businesses growth instead of spending it on endless, demanding maintenance and management issues.
Pricing you can plan for. 30-day money back guarantee.
Pricing you can plan for – CeraNet uses straightforward pricing so you can easily predict your costs. We also offer a 30-day, money back guarantee for our cloud services & ongoing technical guidance. Unsure which options are best for you? Consult with one of our experts & learn more today!
For more information on any of CeraNet's data services & solutions, contact us today.