Your Equipment. Our Data Center. Phenomenal Service.
CeraNet's colocation hosting services provide high levels of security for clients looking to ensure that their data is safe from natural disasters. By partnering with CeraNet, you achieve greater efficiency with increased redundancy and reliability, all for an affordable price.
What is Colocation?
Colocation hosting is a great option for organizations who own their own servers and hardware but want to avoid the expense of building and maintaining a data center. With colocation hosting services, you place equipment in our secure and reliable data center. CeraNet takes care of the rest, including rack space, bandwidth, power, Ethernet ports, monitoring and on-site professional support staff.
Enhanced Reliability & Faster Speeds
By having your own data host, you cut out any other outside users or companies that may be tapping the same server for resources. This equipment is dedicated to you & only you. No one else can bog down the connection.
Increased Security & Compliance
Both physical & network security are greatly increased when your equipment is located offsite at a protected location by a team who's primary mission is to provide a safe & efficient data hosting service.
24/7 Support
CeraNet offers impeccable 24/7/365 local network support to clients using colocation services. By having constant access to our experts, you can rest assured knowing that your data is in the best hands.
Top of the Line Backup Protection
Automated system & network backups are scheduled based on your organization's wants & needs. These backups are designed to always be accessible.
Cost-Effective Strategies
Outsourcing your hosting to a dedicated data center greatly saves on overhead & capital costs, while minimizing the hassle of having an in-house management team.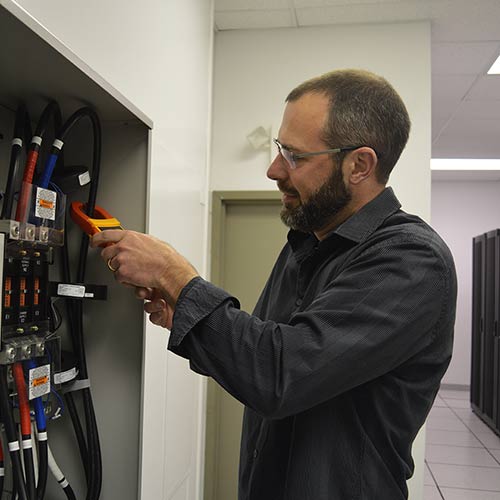 Phenomenal Support
Our technical support team is staffed by experts with decades of consulting and services experience. Call us or email us anytime 24/7/365 and speak with a live support professional.
Additional Service Options
Managed Services
From hardware to software to data, CeraNet can manage as much or as little as your organization needs. Full network management and support comes standard with all services. Managed Services include options for full management – more than just another set of eyes and hands. We offer help with complete systems design and consulting, project planning and implementation services, as well as ongoing support. Our team can help with your hardware procurement, networking, software installation and security best practices.
After you get your system up and running, we can assist with data backup services, disaster recovery plans and ongoing maintenance to support your organization end to end. We offer management service on contract and "as needed." Great "level 2" support gives you an expert to help resolve complex issues, extra resources to help when you get overloaded, or backup when you are not available. Not quite sure which hosting option is right for you? Take a look at our hosting comparisons.
Hybrid PLUS Solutions
One size doesn't fit all — CeraNet's Hybrid PLUS Solutions allow you to combine public & private cloud services with colocation, dedicated servers, shared hosting or all of the above. Our Hybrid PLUS solutions are designed to cut capital expenditures and ongoing operating costs while still meeting strict, high performance technical requirements for complex IT systems. Our unique combination of services, network power and technical expertise enable your organization to eliminate waste, initial capital outlay and ongoing maintenance costs.
Learn More about our Data Center located in Columbus, Ohio.
Not Sure If a Colocation Data Center Is Right For You?
Contact CeraNet today & we will help determine the best hosting option for you.